EstateExec Reference Manual
Show Table of Contents
EstateExec is online software that helps executors administer and settle estates, providing automated guidance and automated financial accounting. Whether it's your first time serving as an executor, or you're a professional estate attorney, EstateExec will make the process easier and simpler.
This Reference Manual provides detailed instructions for using EstateExec; see also Executor Guide for a higher level description of the overall estate settlement process. If you're just getting started, and don't know what to do first, you may want to start with Using EstateExec.
General Tour
Think of EstateExec™ for estate disposition as Quicken® is for personal finance management. It can't do it for you, but it can provide great assistance. You can get a general sense for how EstateExec works, and what it can do for you, from the following video: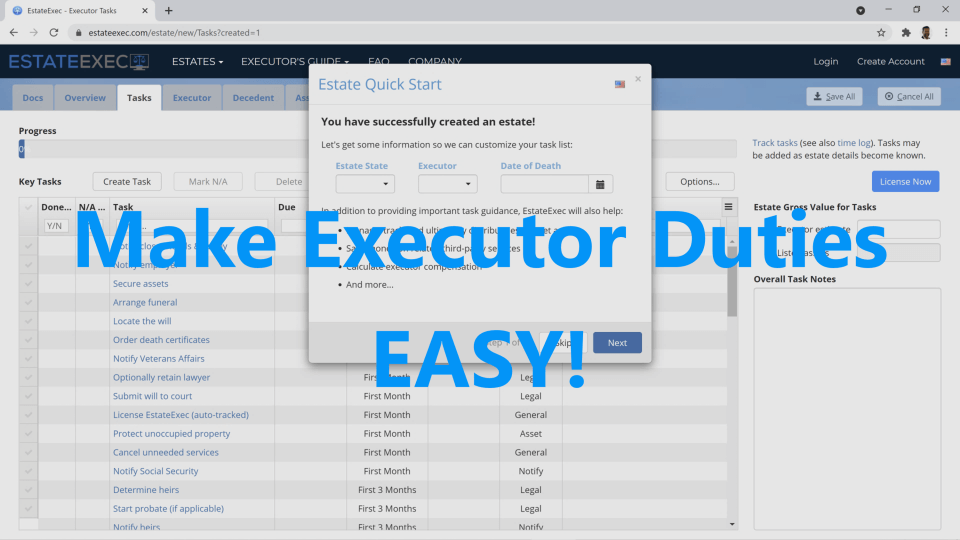 EstateExec Organization
For a more detailed explanation of how EstateExec is structured, watch the video below:
Menus
The EstateExec menu bar along the top provides easy access to context-sensitive commands (the menus change depending on which tab you are showing, and the current situation). The Help menu can be very useful!
Table of Contents
Along the left of your browser window, you can see a collapsible outline of helpful topics. You can view or hide sub-topics by clicking on the plus or minus sign at the beginning of each title, you can view a topic by clicking its title, and you can find topics using the title search field at the top of the list.
For detailed instructions using EstateExec, select a topic from the outline on the left, or from fundamentally the same list below (organized slightly differently):
The Basics
Estate Administration
Copyright © 2014-23 EstateExec